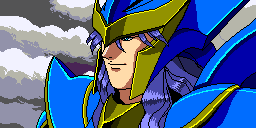 Intermission time! Remember that forbidden island you couldn't get in? Once you've done the surrounding ring, the renovations are finished, now its open for business. Time to storm the giant black object. Maybe a futuristic giant pepper shaker?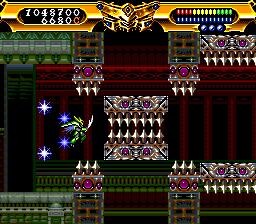 Level 7 is difficult too, get a shield like I have here. Ever get the feeling someone doesn't want you here?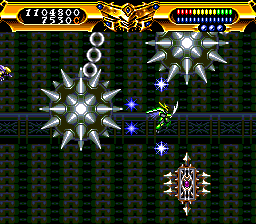 Or here?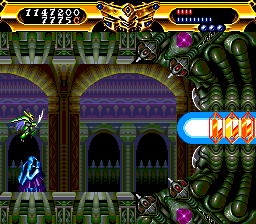 The guardian to the boss. Warping lazers, bullets, enemies, and a huge crystal lazer don't really add up to a welcome mat.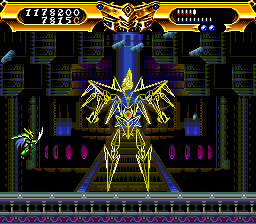 The crystal man... he's cool, with neat lighting affects. You can only attack when he breaks apart and reveals the tiny centerpiece.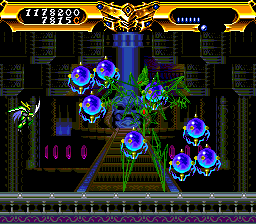 If you die.......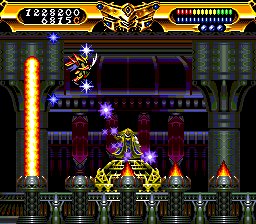 LEVEL 8!

The first boss is a pyro, causing the fire to snap up at you.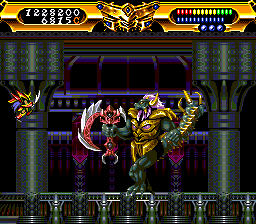 Whoops, made him mad. He got off his seat just to come fight me. Dodge the sword when he throws it, and watch out for the tail.....whew... think I beat the game.....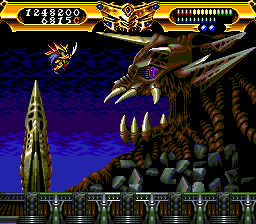 Agh! maybe not... just when you think they can't get more nasty....this ugly thing pokes at you with claws, and has bending 90 degree lazers. Another slugfest, use the specials about now!

Ok, we'vefinally done it! have a peek at the Ending!