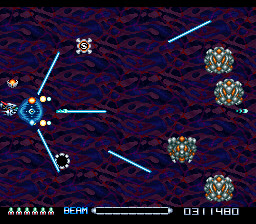 Disappointingly, this is the worst level in the whole game. Still, being R-Type, This worst level is a lot better than the best level in worser games. (if you understood that, have a medal).

A real bastard to play with SNES9x, as there are lots of transparent places which you cant see unless you keep switching the layers. The whole level revolves around the theme of a dual universe space, and the screen merges in and out of them. This part is what I call the 'outside'.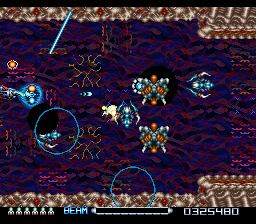 And here's the 'inside'. Baddies can come through from the outside by using the black holes, which are also REALLY useful for yourself when passing through pillars (You've got to play it to understand!)

There's wiggly background patterns here, which annoyingly move your ship around.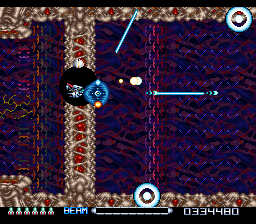 Ah, here's an example of using a black hole to pass through a pillar. Neat stuff eh?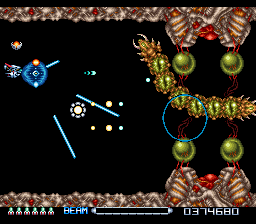 Again, I mistook this for the end game boss. Just blow off the green testicles and pass through to...Da DAAA!!!!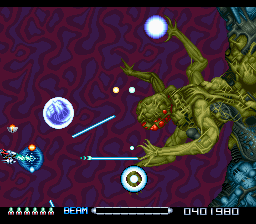 FINAL BOSS!!! This four armed monstrosity is deceptively easy....All you have to do is kill him to beat the game....heh heh!! Watch out for the hands throwing spinning aliens in lightbulbs.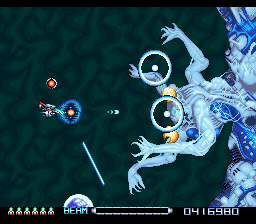 When you blow his head off, he grows another one. (I bet Mr Bobbitt would have liked that facility)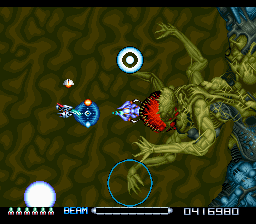 Mind and only hit him with a beam shot when his mouth is CLOSED funnily enough!

When its open he spits out small spaceships which constantly move at right angles and take loads of shots to kill.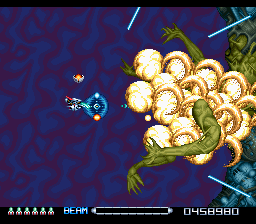 Believe it or not I actually sat back and reached for my juice and ciggies here....fool!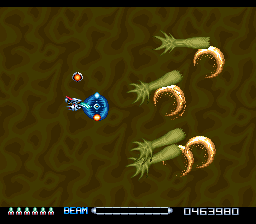 Of course, in best horror film tradition, a baddie isn't dead until he's DEAD, and even then you're not so sure until the credits roll.

His arms decide to have a go at you next.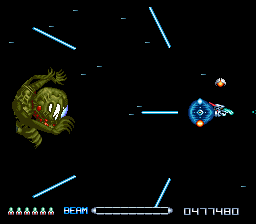 Now the rest of him gets pulled into a black hole, with his wee handies frantically trying to hold the edges back.

He has a last ditch attempt to splat you with missiles and then fades away into the night.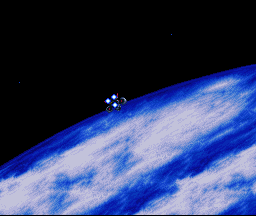 And what's our reward for completing the game? Yup, do it all over again on HARD SETTING! And we play games for FUN??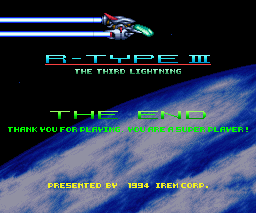 Poor Simon. He battled gamely through the advanced setting, in the hope of gaining some pics for Shmups of the rumoured fabulous ending. I bet he nearly topped himself when 'rewarded' with this message:) Must have taken him ages as well, as R-Type 3 is a bit of a bast on normal as it is!

It really bugs me that a lot of games have lovely intros, and crappy endings. They've got it completely arse over tit.

MAIN PAGE »»