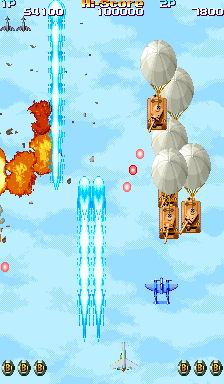 >> SMART BOMBING

I've just let off a big one here, clear the decks. Good old smart bombs, a hugely amusing addition to any shootemup, especially if done right. Well, these are done right, with a new kink to them. A quick press of the bomb button will effect a screenwide deathly blast of lovely springflowerlike explosions, ridding your immediate vicinity of bullets and baddies.
However, hold the button down a bit and you can actually powerup the bomb to different levels, 3 being the max. Let go and step back, and enhanced pyrotechnics unleash themselves. Simple and effective, wonder why it hasn't been used much before. You can work out the gameplay implications of this yourself... there's both pros and cons of this feature. One 'disadvantage' is quite cunning - I always seem to die whilst holding the bomb button down just because of sheer greed for a bigger effect.
<< AND TANKS MIGHT FLY

Extreme sports have nothing on this. Parachuting tanks as you can see quite clearly. What's not so obvious is that in this level there's bugger all land about. Look, see, "Water water everywhere, and now my tank will sink". Happily, this little bit of artistic license bodes well for the rest of the game, with some great twists on the usual enemies you get in a 19?? game.
Those blue streaks are subdimensional rips in the space-time continuum, watch out for them as the demon angels can pop through them and you're into an alternative universe, a la Dangar.
Oops, sorry I was mistaken, they must be lasers. At least I got a link in to another review though, eh?