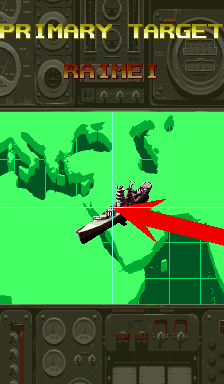 >> DEEP RED SEA

Lovely rich colouring here, it's not as garish as it seems, instead you get a warm fuzzy glow just like being on top of a hill in summertime, picnic ensconced in your tummy, and the sun going down gently. Ahhh... AAGGH!
Another cunning ploy you'll find Capcom up to here is to distract your eye with detail, and the resulting aesthetic appreciation can result in untimely deaths.
This is the point where things start to go a little DonPachi-ish, with familiar patterns of purple "bullets" appearing. I was pleased to note that it does not get to stupid levels though - in fact the sort of unfairness that Gigawing can display in this area is just not evident.
<< TICKLE HERE

Two things stand out here. First, the fact that it;s a battleship and it's in the middle of some desert in Egypt. Secondly, it's bloody huge. Lay it along, say, Italy and you'll have bits hanging off the end, casting an impressive shadow over Sicily. Oh, and another thing, there seems to be a large charcoal coloured dragon with eyestalks nesting comfortably on the after-deck. See it? Is it just me that sees these things? I can stare at wallpaper for hours quite happily, especially that plain and bumpy kind. Please email me and tell me I'm not alone. Ta.