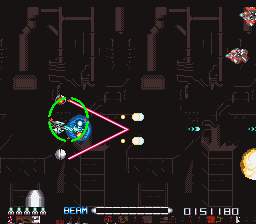 Be prepared to die here MANY MANY times. Most likely my most hated level in the game. Why? because it's impossible to get through without prior knowledge of what's going to happen next. Not fair, and not very well designed, although it does look lovely.

The pistons you see here close in with only a TINY amount of room left to hide in, fortunately there is a blinking cursor which shows you the safe bit.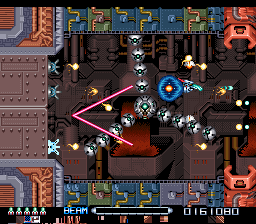 This bit seems hard until you realise how hard the NEXT bit is!!! The spinning bit in the middle nastily changes direction half way, and the flying firey blobs can go right through your Force, so it's no help attaching it to the back.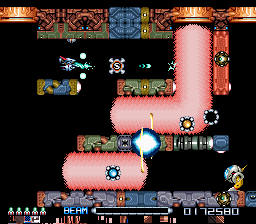 I spent more time here than the rest of the game put together. And I was damned if I was going to cheat by using the save game state thing in SNES9x. Cheating ain't allowed here - what's the point! Ooh yes, lets buy an expensive game so we can complete it in minutes with a cheat on...hmph!



You only get a tiny indication of what's going to blast next. The pipes at the top flash once, and this molten metal comes out and wiggles through the maze. Finding safe points is actually trial and error.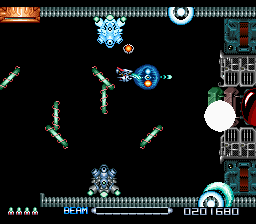 Mid way boss. Yes, you're only half way through it!! the nasties at the top and bottom change attacks as you blast away the middle sections....

Use your beams to blow away the shiny bits when they appear, and stay away from the back of the screen as there's a lava tube at the back.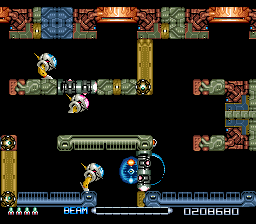 Suddenly, the screen begins to scroll backwards! Uneasily, you get the idea that you're GOING TO HAVE TO DO THE MAZE SECTION AGAIN!!! NO NO NO!!! not again! please, not again!

Yep, and this time its harder, as gates close as you move around, changing the flow of the lava stuff. You'll notice I died here.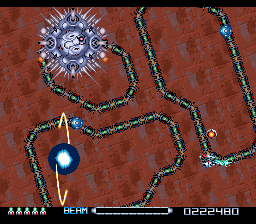 In still shots, not an exciting boss. You need to get as many hits in as you can before things speed up.

Well, the background here spins around in mode 7, and the boss spins around the screen the other way, even faster.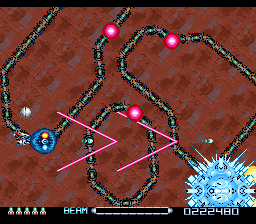 Soon, it becomes a pure blur, and you really can't avoid the flashing blobs in the middle, which move around their own wee tracks just like a Scalextric set.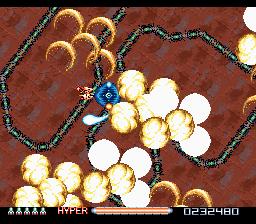 My last ditch Hyper beam got him! YAY! about to give up here. I'm scared to look at level 5 now...