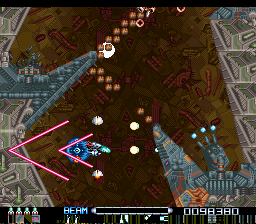 Some vertical and diagonal scrolling here, this level is shaped like this: \_/ (great map graphics eh?). The blob-leavers from level 4 of the original game make a reappearance. I hated them the first time around, and I don't like them here.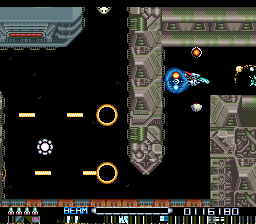 Classic R-Type. squeeze between Z-shaped corridors and baddies attack from behind again! This is where the yellow shot become handy, they get left behind by your Force and protect your posterior. I must admit the weapons are not as finely tuned as in previous incarnations, they sometimes are absolutely no use for certain situations!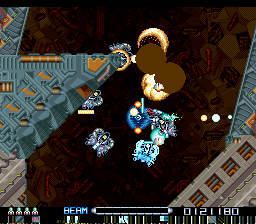 Get ready for this trap of encircling baddies by having a super beam shot ready! Took me three tries to do it.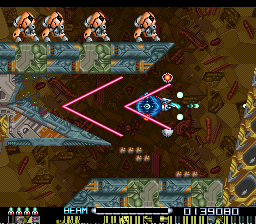 Familiar stuff - a line of walkers ready to jump off a ledge like lemmings. Remember that bit in R-type 1 where hordes of them did the same? Level 5 I think it was... the bit where you had to get your ship within 1 pixel of the ledge to survive?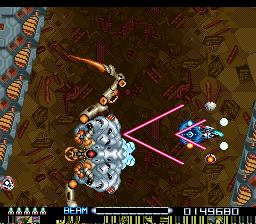 I don't like spiders. Yes, I know this is more like a crab. But those JUMPING spiders, the kind that just sit there and scare you by threatening to jump! - thats what we've got here... a very fast moving beastie. Shoot the top of it off first...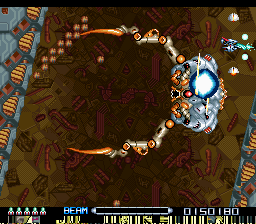 ...then shoot off your Force to kill the underneath of it.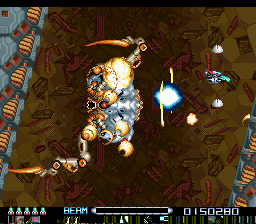 Easy, eh? (phew!). I hope level FOUR isn't as hard...