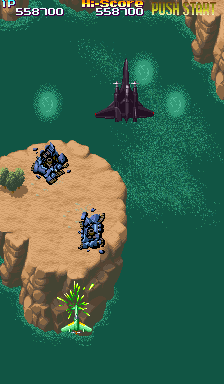 >> 'MINED' YOUR HEAD

Amazingly detailed and rather hard boss - I love how the little trains on chains follow the tracks being laid. As with all the bosses, it's a case of studing them for attack patterns, something that has to be mastered to do well in 19XX.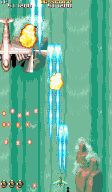 Falling down the falls, accosted by a bi-helicopter. Gonna be a big splash, matey.
<< STEALTHY DOES IT

Remember me? Yes, he's the guy who wasted your mothership. He always gets away. I hate him. I think I'm supposed to. I had a wee try at stealth technology myself here, using leaves and twigs to hide the front half of my plane. Actually, it's powering up the lock-on.