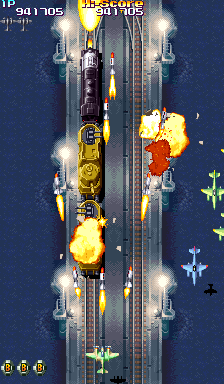 >> THE BIG ONE

So big it needs three sets of tracks to run on. All the better to derail you with, my dear.
Never mind all your bristling guns and rockets, I have three dimensions* of freedom to move in mate, all you have is a daft straight line. Dodge this, motherfugger.....hah
*If it was real life, it would be
3 dimensions, ok? Having said that, consider the nonsensical fact that planes quite often go BACKWARDS in shmups, and the odds on spikey big train winning in real life would be much higher.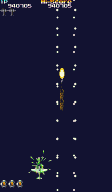 Looks pish here, but this zoomy animation of your plane descending to the tracks is amazing ingame.
<< CHASE THE EXPRESS!

...and blow it to bits, naturally. Fast and exciting this bit, especially if you are one of those "people" who adore trains.
See if you can spot its number so you can write it in your stupid little black book of train numbers or whatever you 'collect'. Get a proper hobby.