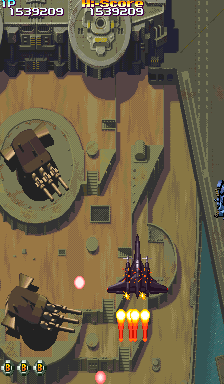 >> SHADES OF RAIDEN

As wellas helicopters, I am quite partial to the tanks on legs enemies, made popular in the Raiden series of games. I think Raiden is the only game which can do these properly though, including the all-important grindy pneumatic noises when it lumbers about.
What, no endscreen? Click to find out why: LEVEL 7»»
<< THE GIT AGAIN

You just know there's going to be a big showdown involving this guy, but naturally when it does come down to it, his ship is going to be much too small for a final end of game baddie. I wonder what Capcom have up their sleeve for Mr Git. In the meantime, blast him futilely.