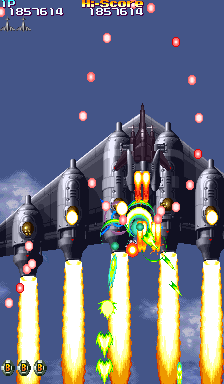 >> BUT ITS GOT NO WINGS?!

Yet it still flies, showing every sign of falling apart but annoyingly not doing so. This is the last baddie by the way, so if you die here on your last continue, you'll have to do it all over again. Unlike Konami, Capcoms End-of-Game-Bosses were always pretty nasty affairs, hanging onto life against all probability. THE ENDING!»»
<< STEALTHY'S GOIN' DOWN!

Here he is, docked into a veritable flying arsenal, not quite as nippy on the acceleration, a bugger to park, but mightily impressive. Very few safe areas here at all - what with rockets, bullets, gun turrets and jet engines all doing their bit in the hero-annihilation department.