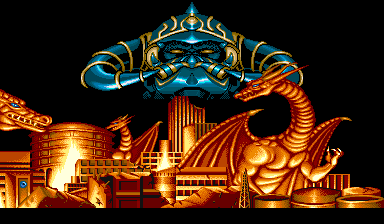 (My apologies for not having any screens of the Genny version)

Stage 1: Wrecked City and Bio Factory

"Why not Labor Day?"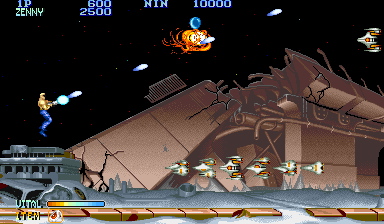 London bridge went falling down, apparently.
Hey, here's a funtacular bit of knowledge--This stages' music is used in the
great NGPC game 'Card Fighters Clash', in none other then the 'Forgotten
Worlds' area!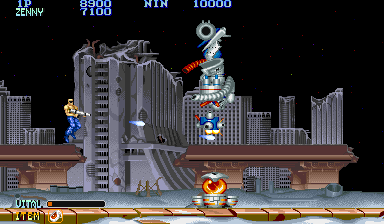 A bunch of vacuum cleaner parts form together to make the ultimate fighting force.
That orange sphere is it's weak spot (of course).

[ Go, Deathscythe go! Oops wrong game... - Felix the Cat ]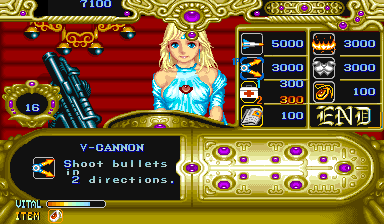 Here's our shop, where you can buy those helpful items I mentioned.
You should buy a life up every stage, and get the missle launcher here
to make the rest of the stage easy as pie (3.14159...).
And hey, the card shop in 'Card Fighters Clash' (Forgotten Worlds),
is the same as the shop music here!

[ I'll have a can of Pepsi, two packs of Regal cigarettes, a Twix, some condoms,
a couple of prostitutes... - Felix the Cat ]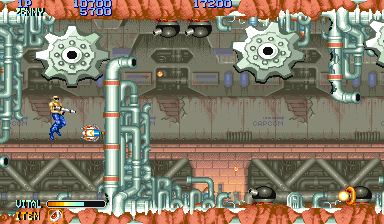 Entering the factory. Those gears can be destroyed, but do it in time, or you'll
be 'forgotten' too! (as you're crushed into guts 'n blood, of course)

[ All geared upo eh? - Felix the Cat]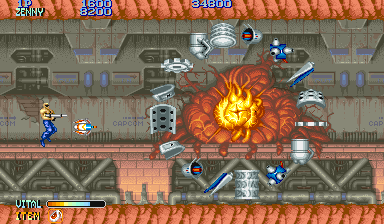 Boss 1: Heart of Darkness

This is a rather bad boss. It took me a moment to realize he was the boss,
and not just a nasty background. VERY easy, so shoot away.

[And the thing made up of all the junk left in your shed returns to avenge it's
scrapheap friends - Felix the Cat ]