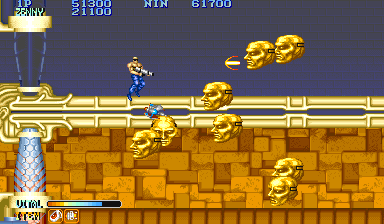 Stage 4: Egyptian Entrance

Now to go take care of that annoying 'Egyptian' War God.
Hey, remember that horrid 3d fighting game War Gods?
I think it was inspired by this game, because I seem to remember it having a
futuristic wargod, and an egyptian one, and one that could fly, etc...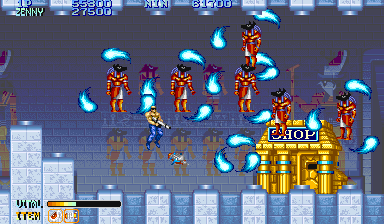 The... shop.... so... very close! If... only... Ramses... wasn't blocking it!!!!! ARGHHHHHHHHHHH!!!!!!!
This part is kind of like a maze, but... much easier. There's some free zenny to
be had behind fake walls, so poke around a bit.

[ So money doesn't grow on trees, but can be found inside shoddily built
masonry... interesting... - Felix the Cat ]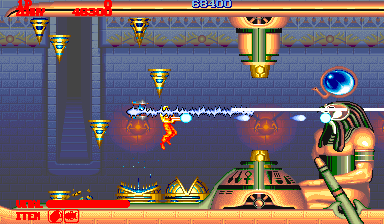 Boss 4: ARTEMIS FALCON!

"Get on the boat, the banana boat!"
Oww, getting smashed through the middle by a lightning bolt is not my
idea of a good time.....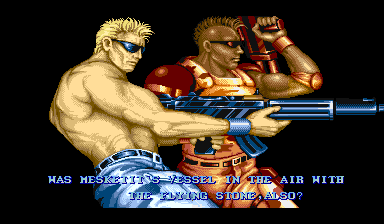 You gotta love the translation in this game.
[ It's progressively better than SNK-glish, but not by much - Felix the Cat ]
BACK TO THE TOP!