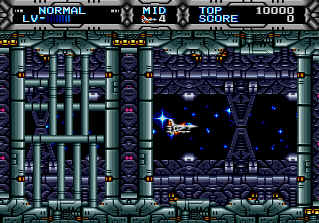 It's time to fly. Remember soldier, it's time to kick ass and chew
bubble gum, and none of pansy Juicy Fruit crap either.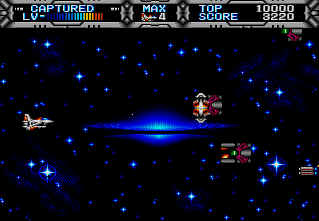 Right off the bat, I'm stealing some goods. The first level isn't too hard,
but try to get a good weapon early on. Still, harder than most first levels.
Don't get cocky son!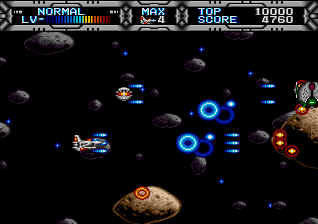 Some cool looking asteroids. A not so cool looking weapon :(
[ Probably why it's called "NORMAL" - Felix the Cat ]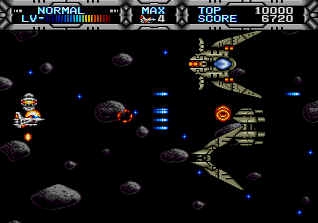 Here is where level one tries to kick into high gear. These parts
combine to form one baddie who isn't too hard. Just don't die.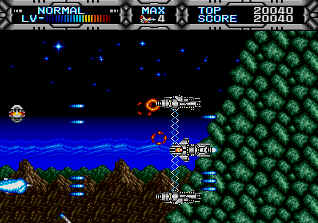 I'm sure you've seen him in, oh, about 60 other shooters.
I guess we could call him the Brian the Gene Hackman of shmups.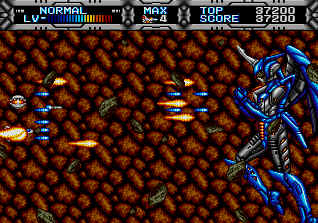 A damn cool boss for a first level. It makes this annoying sound when
you hit it, like rain falling on steel.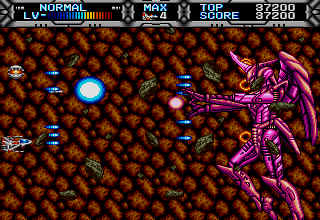 SHINKU-HADOKEN!!
[ KAMEHAMEHA!!! - Felix the Cat ]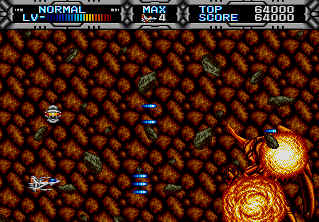 Another one bites the dust. They don't call me Snookie for nothing.
Now you know..

BACK TO THE TOP!